Executive Chef & Culinary Staff
Our professional and friendly catering staff help create an exclusive dining experience for any event.
When you dine with us for an event, the culinary staff at The NEW Center work to make sure you and your guests can enjoy delicious food that's been carefully planned out specifically for your event.
Meet Executive Chef Xavier Smith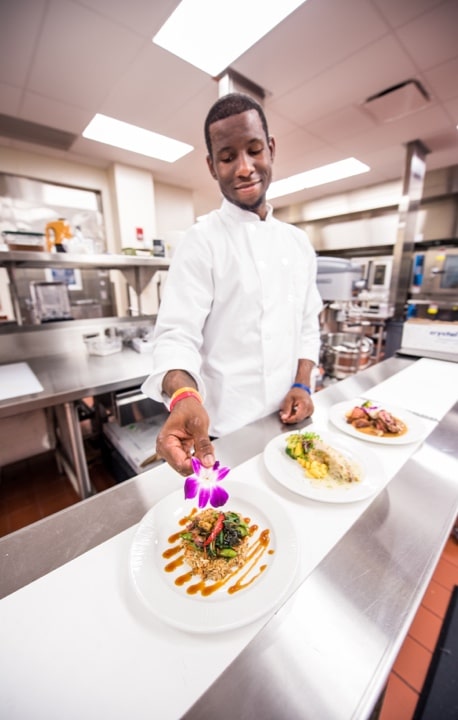 Xavier came to The NEW Center in 2014 with extensive training from Le Cordon Bleu Institute of Culinary Arts located in Pittsburgh.
Prior to joining The NEW Center team, Xavier led the Kitchen at Russo's Restaurant & Bacchus Lounge, which specializes in Creole and Italian Soul Food. Xavier was also a chef at Cinderella's Royal Table at Walt Disney World Resort in Orlando, FL.
Cooking since 1989, when he was just a young boy, Xavier has always had a passion for not only the act of cooking, but the way food brings people together.
Although he is fully capable of making a wide array of dishes, Xavier's favorite foods to create are Creole and Asian cuisine. He's constantly coming up with his own special recipes and altering them along the way to find new favorites.
In his years at The NEW Center, Xavier has enjoyed coming to work everyday and meeting people from all different walks of life. "It's a very friendly and versatile environment. There's always something new and exciting going on." says Xavier.
Beyond cooking up delicious culinary creations, Xavier often works his magic outside of the kitchen by sitting with clients and helping them plan their uniquely created menus. He always adds a little flavor and fun to any event.
Our Culinary Staff
Our kitchen staff and serving crew are all here to help make your event a great experience at The NEW Center. Our goal is to make sure you and your guests are well taken care of throughout the event, and that the food we serve exceeds your expectations.
Make Your Event a Success